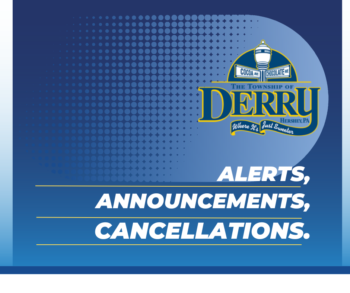 Derry Township Community Center:
Wednesday, June 7, 2023:
Due to the air quality status listed as "unhealthy" in our area, the Outdoor Pool will close at 6:00 pm this evening. We will re-evaluate the air quality status tomorrow, Thursday, June 8th. We appreciate your understanding as we strive to keep our staff and patrons safe.
Due to Floor Maintenance, the Leisure Pool will be
closed
starting Monday, June 5, 2023, through Friday, June 16, 2023.
---
During the winter season, inclement weather can sometimes impact activities, meetings, or events here at the Township and could result in cancellations and/or closings. Here you will find listings of weather-related announcements, cancellations, and/or closings regarding our status during the winter months.