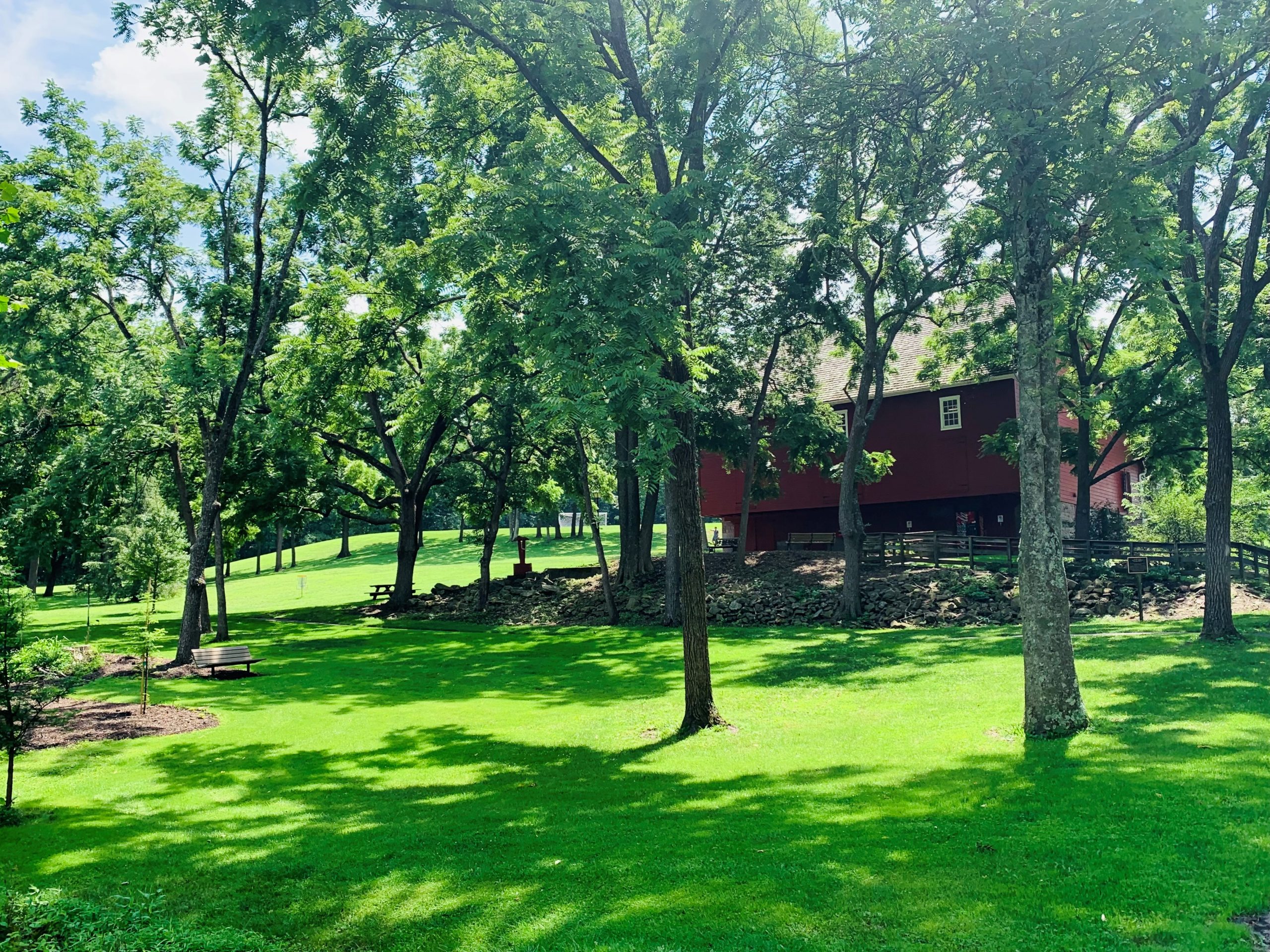 Residents can enjoy outdoor recreation in the Township's ten public parks.
The Township's park system offers 250 acres of open park space. Each park offers residents a different recreational opportunity, including team sports, playground equipment, fishing, skiing, picnic shelters, and nature trails.
All Township parks are open from dawn to dusk and have restroom facilities or portable toilets during the summer months. Please abide by the park rules and regulations established for the safety of users.
Township Parks
Cocoa Castle – 605 Cocoa Avenue (Map)
The Cocoa Castle playground, located in front of the Community Center on Cocoa Avenue, was completed in the Spring of 2017. This popular playground replaced the original wooden structure that was built by the community in 1993. The new version replicates the peaked roofs and contains many of the same play features as the original design, all while using modern playground components.
Shank Park – Bullfrog Valley Road (Map)
Shank Park is the largest of the Township's eight parks with 90 acres. Centrally located, the park is the host of many recreational events. Shank Park provides numerous fields for team sports including two baseball fields, two softball fields, and two soccer fields. Shank Park is the perfect location for a family picnic with a playground, swings, pavilion, barbecue grill, and an 18-hole disc golf course. Handicap-accessible restrooms are available. An interpretive nature trail is a treat for outdoor enthusiasts. During the winter months, Shank Park visitors enjoy sledding and cross-country skiing.
Bullfrog Valley Pond – Bullfrog Valley Road (Map)
The Township's Public Works Department built Bullfrog Valley Pond which is the home of the annual Fishing Derby. The park features a pavilion and barbecue grills. This site is also a trailhead for the Jonathan Eshenour Memorial Trail. It's a great place to spend a relaxing afternoon fishing or reading a good book.
Palmdale Park – Washington Street (Map)
Palmdale Park is a 10-acre neighborhood park with a midget baseball field, a soccer field, and a basketball court. A picnic shelter provides shade in an otherwise open area. Other features include playground equipment and access to the Township's Jonathan Eshenour Memorial Trail.
Brookside Park – Church Road (Map)
Brookside Park is nestled behind Chadds Ford Development and is near numerous other residential neighborhoods. Brookside offers a basketball court, playground apparatus, and a pavilion with picnic tables.
Boathouse Park – Boathouse Road (Map)
Boathouse Road is located along the Swatara River, offering an opportunity unique to all other Township parks. The Township installed a boat launch to provide access to the river. Residents can enjoy a day of fishing, boating, and picnicking in this beautiful natural environment.
Koons Park – Sandhill Road (Map)
The Sandhill Lions Club donated Koons Park to the Township in 1999. This 4-acre park has a baseball field, a T-ball field, and a swing set.
Founders Park – Homestead Road (Map)
Founders Park was developed as a joint project between the Township, School District, and the Milton Hershey School. The 41-acre park provides softball, baseball, and soccer/lacrosse fields for school athletics, and local associations. Little ones can play on the playground equipment and swings, or run in the large open area.
Gelder Park – Gelder Park Drive (Map)
Gelder Park covers 28 acres and includes a large playground, a tennis court, a basketball court, two sand volleyball courts, a picnic pavilion with tables, a baseball field, a soccer field, and a concession stand with restrooms. Highlights of the park include a life fitness trail, a walking path, and nature trails. Plans for the park include a connection to the Jonathan Eshenour Memorial Trail and access to Swatara Creek.
Chocolate Town Park – W. Chocolate/Cocoa Avenue (Map)
Chocolate Town Park is the newest addition to the recreational spaces within the Township. This high-profile central downtown location provides open space for gathering and enjoying the beautiful surroundings of our small town setting. The park provides a meandering path under mature trees and plenty of areas to relax on a bench or lawn area and enjoy the sounds and sweet scents of downtown Hershey. This site is also the center for many programs, music, and activities during the spring and summer months.
All Township parks are open from dawn to dusk.
Parks Comparison Chart