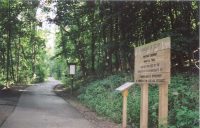 The Jonathan Eshenour Memorial Trail is owned and maintained by the Township of Derry and was named in memory of Jonathan Eshenour, a young and vibrant member of our community who was fatally injured in a biking accident.
The 13.5 mile trail travels through a majority of the township and provides access to parks, neighborhoods, and commercial establishments. The trail presents an array of quality recreational opportunities. It's a wonderful avenue to exercise, experience nature, and enjoy friends and family. The trail travels conveniently near the township's parks, providing additional activities such as sports, fishing, picnicking, and much more. It is our hope that the trail will provide safe natural recreational activities for families to enjoy for generations.
Many individuals and organizations have been instrumental in the success of this trail system. Without their contributions and efforts this project would not have been possible. A special thanks is given to Randy, Cheryl, Nathan and Matt Eshenour and the countless volunteers who have committed their hearts, minds and souls to this effort.
Read the Jonathan Eshenour Trail Improvements Audit
Funding Sources/Land Contributors
Federal Highway Administration
PA Department of Conservation and Natural Resources
Township of Derry
Jonathan Eshenour Foundation. The proceeds from the event continue the expansion of the trail system.
Land / Easement Contributors
Milton Hershey School Trust
Penn State Milton S. Hershey Medical Center
Mr. and Mrs. Lee Moyer
David and Carolyn Ake
William and Connie Hess
Hershey Brethren in Christ Church
Safety
This trail system is maintained by the Township of Derry Public Works Department and administered by the Department of Parks and Recreation. If you observe unsafe conditions, activities that are not permitted on the trail, or other items that warrant attention, please report them at (717) 533-7138 or parkshelpdesk@derrytownship.org.
Please abide by the rules and regulations that are posted along the trail. They are in place to facilitate an enjoyable experience for all types of use of the trail.
Trail Rules
Please wear a bicycle helmet every time you ride your bike. Helmets should fit properly and should not move when you turn your head side to side. The helmet straps should fit snugly. For a complete listing of all trail rules, please download the PDF below and keep for your records.
A map of the trail in its entirety is available at the Recreation Center office.
Adopt a Trail Program
If you or an organization you are aware of is interested in adopting a portion of trail to assist with upkeep and general beautification projects, please call (717) 533-7138. This is a great opportunity for groups or individuals to volunteer time to help keep the trail in great condition for all to enjoy.
Contributions Accepted
The Friends of Derry Township Parks & Recreation has established a fund for the continued development of the trail system. Your contribution goes a long way in that effort. All contributions should be made payable and mailed to:
Friends of Derry Township Parks & Recreation
c/o Jonathan Eshenour Memorial Trail Fund                                   
Township of Derry Parks and Recreation Department

600 Clearwater Road

Hershey, PA 17033
Thank you in advance.