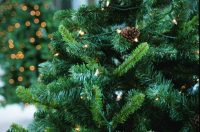 Christmas Tree Collection Schedule
Monday
W. Areba Avenue, W. Caracas
Avenue, W. Granada
Avenue, Beech
Avenue, Chestnut
Avenue, Cedar
Avenue, Swatara
Avenue, Reese
Avenue, Half Street, Annscott Manor, Robin Road (Area) Stafford Heights,
E. Caracas
Avenue/E. Granada
Avenue (In Town), E. Areba
Avenue, Java
Avenue, Ceylon
Avenue,
Bahia
Avenue, Para
Avenue, Hockersville Road, Fishburn Road, Hilltop Road, Clark Road, Church Road, Valley View (Area), McCorkle Road, Old Hershey Road, Gates Road, Jacobs Creek.
Locust Avenue, Maple Avenue, Elm Avenue, Oak Lane, Briarcrest (Area), Cherry Drive, Peach Avenue, Somerset Drive, Cambridge Commons, Glenn Acres, Glenn Acres East, Chadds Ford, South Hills (Area), Sand Hill Road (N. of Roush Road).
Mill Street, Hillcrest Road, Orchard Road, Glen Road, Valley Road (In Town), Cocoa Avenue, Cocoa Townes, Laurel Woods, Sand Hill Road (S. of Roush Road), Woodridge Manor, Roush Road, Wellbeckon, The Meadows, Hillcrest (Area), Hill Church Road, Twin Oaks/Sunnyside (Area), Village of Innsbruck, Shady Hill Estates, Waltonville Road, Walton Spring Hills, Stoney Run, Landvater Road,
Bullfrog Valley Road.
Ridge Road, Linden Road, Brook Lane, Governor Road, Clifton Heights Road, Dartmouth Farms, JoAnn Avenue, Locust Avenue, Middletown Road, Southpoint, Southpoint Commons, Deer Run,
Orchard Run, Indian Run, Carol Acres, Carol Acres East, The Oaks, Waltoncroft, Derry Woods, Stone Creek, Oakmont, Division Street, Royal Street, Old Quarry Road, East Main Street, Mountain View.


Friday
W. Chocolate Avenue, E. Chocolate Avenue, N. Lingle Avenue, Lehman Street, Wexford Road, Brittany Drive, Stauffers Church Road, Hotel Road (Area), Owls Hills (Area), Trinidad Avenue, Palmdale (Area),
E. Derry Road, Center Road, Park Avenue, Park Place (Front Street).
Some delays may occur due to inclement weather.