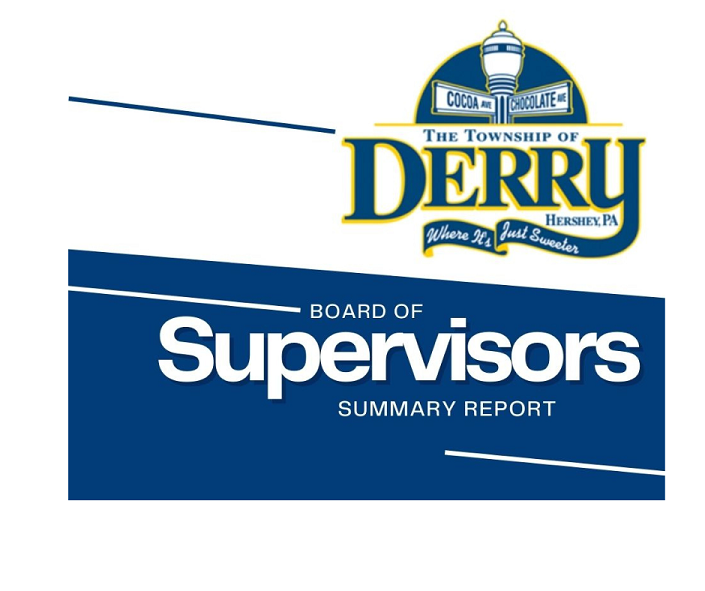 Board of Supervisors Meeting Tuesday, July 26, 2022:
Board took testimony from Local Share Grant applicants and a future decision on ranking priority will be made by the Board of Supervisors at the August 23rd meeting.
𝐑𝐞𝐬𝐨𝐥𝐮𝐭𝐢𝐨𝐧 𝐍𝐨.𝟐𝟎𝟐𝟐-𝟏𝟓 𝐆𝐚𝐦𝐢𝐧𝐠 𝐆𝐫𝐚𝐧𝐭 𝐑𝐞𝐪𝐮𝐞𝐬𝐭𝐬:
DTPD Gaming Grant 2022-23 Req.
HVFD Engine 48
Cocoa Packs Gaming Grant 2022-23 Req.
Vista School Gaming Grant 2022-23 Req.
DHA Gaming Grant
Hershey History Ctr.
Mary's Training Ctr. Gaming Grant 2022-23 Req.
Hidden Still Gaming Grant 2022-23 Req.
LinLo Properties Gaming Grant

Board approved the Settlement Agreement and Release between the Commonwealth of Pennsylvania, Department of General Services, and the Township regarding reimbursement of fees incurred by the Township by having its professional consultant review Zoning Amendment Petition No. 2021-01 for the Pennsylvania State Police
Board accepted the Unilateral Declaration of Covenants, Easements, Conditions, and Restrictions to invalidate a plan of record and release associated financial security for the Final Land Development Plan for 636 Fishburn Road, Plat 1018.
Board passed the Proposed Stormwater Drainage Easement for Stormwater Management Basin B in Deer Run Commons.
The Board accepted the Authorization to Advertise for the Sale of Surplus Township Property in accordance with the Pennsylvania Second Class Township Code, Section 1504 and Derry Township Resolution 2020-19.
Board passed the Acceptance of bids and award of sale of Township surplus items and equipment.
Board approved the Acceptance of financial security for the Stormwater Management Plan for 8 Edgehill Drive, S-2022-016.
𝑽𝒊𝒔𝒊𝒕𝒐𝒓/𝒐𝒑𝒆𝒏 𝒄𝒐𝒎𝒎𝒆𝒏𝒕𝒔
𝑫𝒆𝒑𝒂𝒓𝒕𝒎𝒆𝒏𝒕𝒂𝒍 𝑹𝒆𝒑𝒐𝒓𝒕𝒔
𝑪𝒉𝒓𝒊𝒔𝒕𝒐𝒑𝒉𝒆𝒓 𝑪𝒉𝒓𝒊𝒔𝒕𝒎𝒂𝒏, 𝑻𝒐𝒘𝒏𝒔𝒉𝒊𝒑 𝑴𝒂𝒏𝒂𝒈𝒆𝒓, 𝒂𝒏𝒏𝒐𝒖𝒏𝒄𝒆𝒅 𝒕𝒉𝒆 𝑩𝒐𝒂𝒓𝒅 𝒐𝒇 𝑺𝒖𝒑𝒆𝒓𝒗𝒊𝒔𝒐𝒓'𝒔 𝒎𝒆𝒆𝒕𝒊𝒏𝒈 𝒕𝒉𝒂𝒕 𝒘𝒂𝒔 𝒔𝒄𝒉𝒆𝒅𝒖𝒍𝒆𝒅 𝒇𝒐𝒓 𝑻𝒖𝒆𝒔𝒅𝒂𝒚, 𝑨𝒖𝒈𝒖𝒔𝒕 9𝒕𝒉 𝒉𝒂𝒔 𝒃𝒆𝒆𝒏 𝒄𝒂𝒏𝒄𝒆𝒍𝒆𝒅. 𝑻𝒉𝒆 𝒏𝒆𝒙𝒕 𝑩𝒐𝒂𝒓𝒅 𝒐𝒇 𝑺𝒖𝒑𝒆𝒓𝒗𝒊𝒔𝒐𝒓𝒔 𝒎𝒆𝒆𝒕𝒊𝒏𝒈 𝒘𝒊𝒍𝒍 𝒃𝒆 𝒉𝒆𝒍𝒅 𝒐𝒏 𝑻𝒖𝒆𝒔𝒅𝒂𝒚, 𝑨𝒖𝒈𝒖𝒔𝒕 23𝒓𝒅.