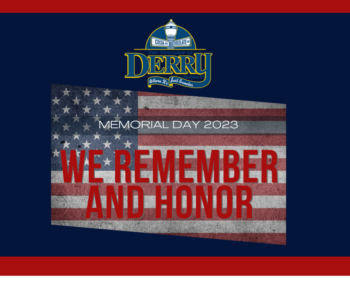 Click here to view the photos from the day's impactful moments from our Memorial Day 2023 ceremony as we paid tribute to the brave individuals who served our nation and community. Our hope for the day's event was to honor those for their dedication and sacrifice for their community and country.
Furthermore, we would like to thank the participants in the ceremony: Our inspirational speaker, Mr. Paul Gaspich, E. Christopher Abruzzo (Chairman, Derry Township Supervisor), Tim Roche (Derry Township Police Officer/Lt. Asst. Chief of Police & Army Veteran), Rev. Al Sceski (St. Joan of Arc Parish), Dwight Kuhn (Chaplan, Hershey VFW Post 3502), Thomas Fonacht (Colonel, USAR, Ret.), Lynette Buchan (Hershey American Legion Auxillary), and The Veterans Memorial Band.
Additionally, we'd like to thank the Memorial Day Committee, the Board of Supervisors, the Derry Township Parks & Recreation, and the Public Works Department.