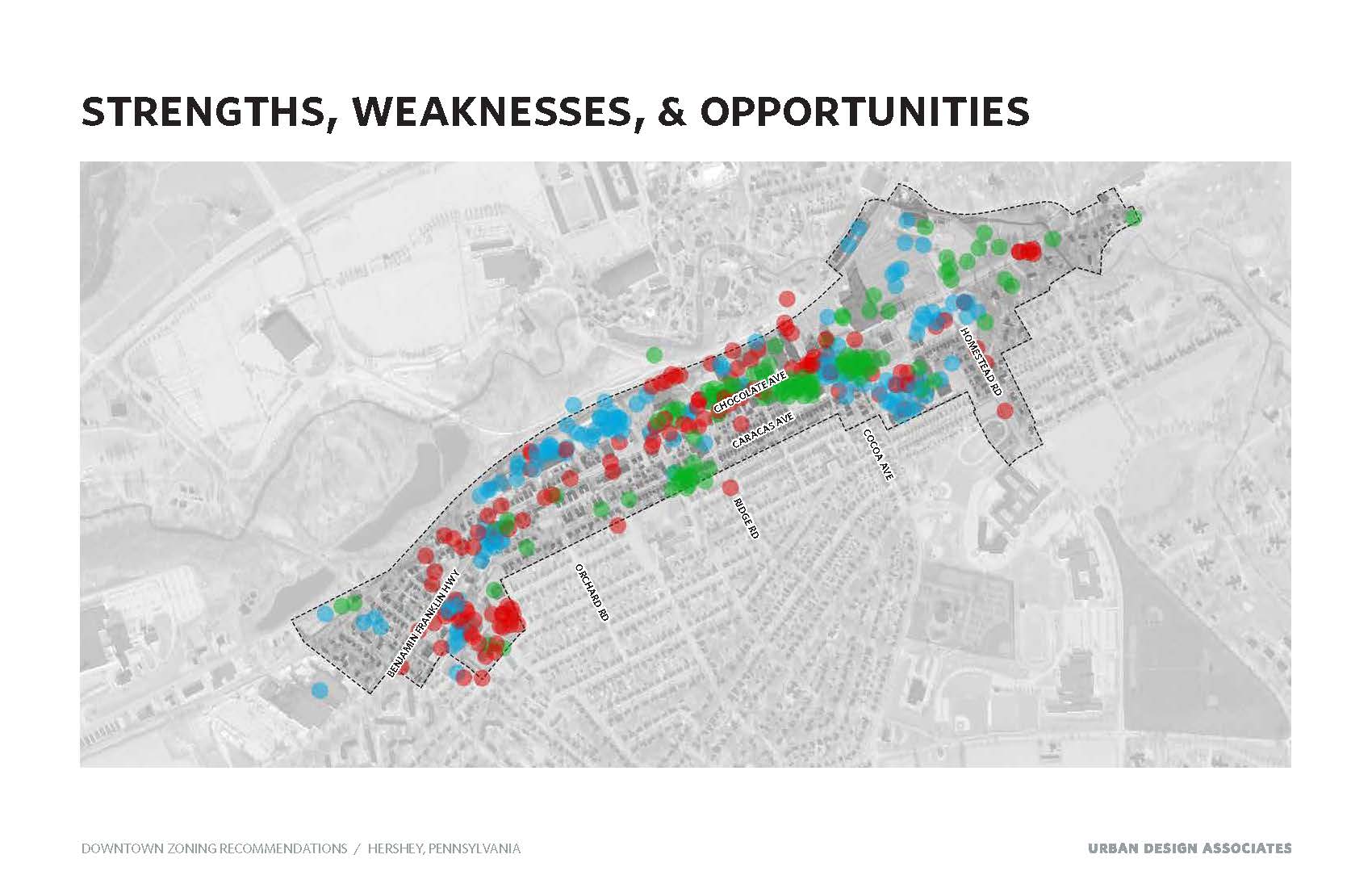 On August 20, 2019, Derry Township, in partnership with the Downtown Hershey Association, hosted a community public meeting and shared some of the progress being made on a planning study for Downtown Hershey. Urban Design Associates (UDA), a national planning firm based in Pittsburgh, was retained in the Spring to prepare recommendations for updates to the Derry Township Zoning Ordinance and architectural design guidelines.
Derry Township's current zoning ordinance was adopted in 2017 and last amended in February 2019. The 2017 overhaul was designed to be more user-friendly than the previous ordinance. This was achieved through the inclusion of "cut sheets" that summarize district regulations, and by reducing the number of zoning districts in the township and considering a series of overlays. While many facets of the 2017 ordinance appear to be working well, it has become apparent that modifications to the Downtown Core Overlay are necessary to achieve desired development patterns. The goal of the planning study is to look specifically at the Downtown Core and consider updates that more accurately reflect the different character areas that are within Downtown Hershey. For example, the Caracas Avenue corridor has a very different character than Chocolate Avenue, which is also different than the old trolley barn area, or the area by the Hershey Theatre. The study will provide a series of recommended updates that consider the unique qualities of each of these areas to achieve desired development patterns that are compatible and consistent with surrounding areas.
In addition to recommended updates to the zoning ordinance, the study will result in draft architectural design guidelines that consider different building types as well as special building elements, e.g. awnings, porches, and terraces. 
During the August 20th public meeting, the draft recommendations for zoning updates and the draft architectural guidelines were unveiled. Approximately 65 people attended to listen to the presentation, ask questions, and view artist renderings. To illustrate the recommended changes, UDA developed several conceptual renderings on various sites in the downtown that graphically represent the type of development that may be permissible if the Township chooses to adopt the recommended updates. The drawings were intended to illustrate what may be permissible, and not what is to occur, and there are currently no active development plans for any of the sites depicted in the renderings. 
UDA's study and renderings were based on review of current ordinances, site visits, stakeholder discussions, and feedback collected at a June public meeting where meeting attendees discussed strengths, weaknesses, and opportunity sites in Downtown Hershey. A summary of the June meeting can be found on the Downtown Hershey Association website.  
The August 20th presentation can be viewed here. The next Downtown Hershey Association board meeting is September 9th at 5:30 p.m. in the Lower Level of The Hershey Story. An overview of the presentation will be provided in addition to other agenda items.