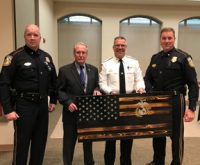 James Negley has retired ending a 44 year career with Derry Township. An event was held in Jim's honor on his last day, November 5. Friends and colleagues gathered to wish him well and to thank him for his support and leadership. He was presented with a Derry Township Retirement Award and a proclamation naming November 5 James Negley Employee Service Day in Derry Township. Dauphin County Commissioner Michael Pries, former Derry Township Supervisor, presented Jim with a citation and Representative Thomas Mehaffie presented him with a citation from the Pennsylvania House of Representatives. A citation acknowledging his service was also presented from Senator John DiSanto from the Pennsylvania Senate.
Jim served in the Marine Corps from 1965 to 1969 which included combat service in Vietnam. Five years following his return home from his military tour, he became a police officer with the Derry Township Police Department, with three years of experience in law enforcement as an officer with the Borough of Elizabethtown. Jim became a detective in 1976 and possessed commendable investigative skills and most notably an exceptional ability in facilitating polygraphs, gaining him recognition from Dauphin and surrounding counties.
Jim rose to the top-ranking position in the department in 1991 when he was promoted to chief of police. The department achieved both state and national accreditation under his leadership. He answered a call for assistance to oversee township government as interim manager in 1993 and again in 1996, a position that he was offered permanently until his retirement on November 5, 2018. He filled dual roles as chief of police and township manager for five years until he official resigned as the chief on March 29, 1996. He was the township manager for 22 years.
A full article on James Negley's retirement will appear in the November 28, 2018 Winter Township News.
Picture: Lt. Ferree, Chief Warner, and Lt. Roche present Jim with a patriotic parting gift.