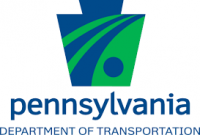 All lanes of Route 422 in North Londonderry Township, Lebanon County, were closed on Tuesday, September 5, as a safety precaution due to the expansion of a nearby sinkhole that created cracks in the pavement of eastbound Route 422 and continues to threaten the stability of the highway. PennDOT has been assessing the sinkhole located near the highway in front of the Palmyra Bowling center and is developing options for repairs to make the highway safe for travel.
A signed detour will direct eastbound motorists on Route 422 by way of Route 117, Route 322, and Route 934. Westbound motorists on Route 422 will be detoured by way of Route 934, Route 322, and Route 117.
There is a depression in the parking lot adjacent to the highway that is about 45 feet in diameter, extending into the shoulder and eastbound lane of Route 422. The sinkhole appears to be growing in size. Two openings in the parking lot pavement appeared last week, and additional cracking of the roadway pavement has extended further to the north.
PennDOT has been evaluating options to address the sinkhole and its undermining of Route 422. An emergency contract will be prepared and a contractor will be in place this week to excavate the sinkhole and make repairs. The repair will also involve excavating the highway for a distance of about 200 feet, from just east a previous repair made in 2014, located near the west driveway entrance to the bowling center to the driveway for the Pennsylvania Credit Union. The goal is to finish the repair and reopen Route 422 to traffic by Thanksgiving.