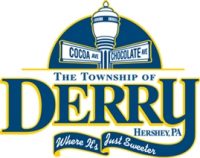 Derry Township regulates both permanent and temporary signage within the Township through the Zoning Ordinance.  There are 3 Sign Districts in the Township, each with differing requirements.  The districts are:
General Sign Overlay, which includes all zoning districts except those listed in the Downtown Commercial Sign and Limited Sign Overlays.
Downtown Commercial Sign Overlay, which includes all areas with the Overlay 9, Downtown Core.
Limited Sign Overlay, which includes Conservation, R-1, R-2 and R-3 and portions of the Palmdale Mixed Use and Hershey Mixed Use zoning districts outside of Overlays 1 – 14.
Permanent signs are typically regulated by height, size, and location and are almost always associated with commercial or industrial uses.  Permanent signs generally required a zoning permit and sometimes, depending on size, also require a building code permit.
Temporary signs are typically regulated by type, size, and length of display.  For instance, a political campaign sign is typically limited to 8 square feet and permitted to be placed 30 days prior to an election and should be removed 2 days after the election.
With few exceptions, permanent and temporary signs are not permitted in the public right-of-way.  One of the obvious exceptions is traffic control signage.  Permanent signs are generally found on buildings or are permanently attached to the ground on commercial sites and temporary signs are displayed predominantly on private property.
If you have any questions on signs, you can contact the Community Development Department at 717-533-2057, option 2.