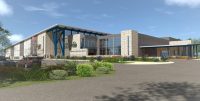 The preliminary business plan for the Hershey Community Center was presented to the Board of Supervisors in a public meeting held on Tuesday, September 25, at the Municipal Building.
Ken Ballard of Ballard King Associates presented the plan and answered questions on how the estimates were formulated.
Links are provided below to the business plan and the video of the meeting.
The Design Development Phase of the Community Center Project will be presented at the Tuesday, October 9, 2018 Board of Supervisors meeting. The meetings are held at the Administration Building, 600 Clearwater, at 7:00 p.m.