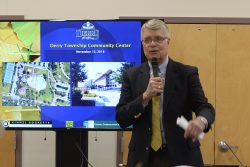 The Leader family today announced it will pledge $400,000 to name the senior center in the new Hershey Community Center in memory of their parents, the late Governor George M. and Mary Jane Leader.
"We are delighted to pay tribute to our parents by sponsoring the new senior center in their memory.  Our parents were in the profession of providing assistance and care for older persons for over 50 years since 1962 so this commitment is a fitting tribute to their contributions both to the Hershey community as well as the senior living profession," said Michael Leader, CEO and President of Country Meadows Retirement Communities.
The current Mohler Senior Center will move to the Hershey Community Center when its current lease expires in 2020. The center strives to create a welcoming environment for active adults to enjoy fitness classes, educational experiences, social opportunities, and community service projects. With more than 700 members, the Center provides a retreat for about 140 local active adults per day.
"We are honored to have the Leader family take our new senior center into the future and we look forward to a wonderful partnership that helps keep people over the age of 50 physically active, mentally stimulated, and independent for as long as possible," said Melissa Weigle, executive director of the Mohler Senior Center.
The original Senior Center of Derry Township was founded in 1983. The current senior center has been named after the late Harold and Melda Mohler since 1997, in recognition of their support and leadership. In honor of their contributions, the Mohler Senior Center board announced it will pledge $100,000 to name the new banquet room in memory of the Mohlers.
The new name of the senior center will be determined in the near future and plans are underway to expand the programming at the center to meet the growing needs of the senior population. "We look forward to having the senior center under the roof of the new community center and to getting seniors involved with the greater community, including creating multi-generational programs to benefit seniors and people of all ages, added Derry Township Director of Parks and Recreation Matt Mandia. The new community center will include space for the Derry Township People Movers organization, that provides free transportation to seniors over age 60.
In addition, the proposed new Hershey Community Center which will open in the spring of 2020, will provide additional recreational and social opportunities for the entire community. It will give residents of all ages more room to swim, participate in classes, hold community meetings and enjoy socializing together. It will also offer expanded programs for students after school.
For more information about the project and the capital campaign, please visit www.hersheycommunitycenter.org