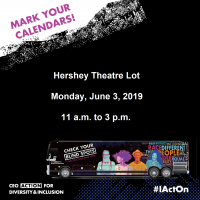 The community is invited to stop by the Check Your Blind Spots interactive bus tour on Monday, June 3, 2019 between 11 a.m. and 3 p.m. in the parking lot of The Hershey Theatre.
The free tour is coming to Hershey in commemoration of the two-year anniversary of the CEO Action for Diversity & Inclusion™ Pledge. The tour helps people learn more about how unconscious bias can shape our likes and dislikes, and our judgements about people's character, abilities and potential.
Visitors will be exposed to the nuances of unconscious bias through a series of immersive and interactive elements that use innovative technologies, including virtual reality and gamification techniques. The tour experience takes from 5 to 25 minutes, based on the engagement level with the interactive elements. Depending on number of participants at any given time, guests may have a short wait to enter the experience. Visitors may also choose to take the I Act On Pledge at the event.
The CEO Action for Diversity & Inclusion Pledge is the largest CEO-driven business commitment to advance diversity and inclusion in the workplace. It has been signed by more than 550 CEOs across the nation, including the leaders at The Hershey Company, Hershey Entertainment & Resorts and Penn State Health.
The Pledge and the Check Your Blind Spots Mobile Tour are funded through a $10 million investment from PwC (PricewaterhouseCoopers). The tour helps to raise unconscious bias awareness and education through 100 stops across the country in 2019 and engaging one million people in person and online.
The Check Your Blind Spots Mobile Tour in Derry Township is presented by Hershey Area All Things Diversity, an organization committed to promoting inclusion and diversity in the community. The organization is led by representatives from Derry Township, The Downtown Hershey Association, Derry Township School District, The Hershey Story Museum, Penn State Health, The Hershey Company and Hershey Entertainment & Resorts.
To learn more and to take the I Act On Pledge, you may also visit www.CEOAction.com.
How Can You Act On the Pledge?
• I will check my own biases and take meaningful action to understand and mitigate them.
• I will initiate meaningful, complex, and sometimes difficult conversations with my friends and colleagues.
• I will ask myself, "Do my actions and words reflect the value of inclusion?"
• I will move outside my comfort zone to learn about the experiences and perspective of others.