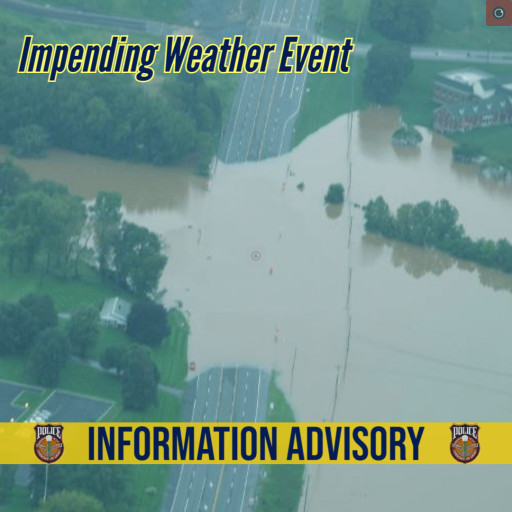 Our area will be experiencing excessive rainfall associated with Tropical Depression Ida on Wednesday, September 1, 2021.  Rain is expected to start in the overnight hours from Tuesday, August 31st into and during Wednesday, September 1st.  At times, rain is expected to fall at a rate of up to 1 inch/hour, likely causing flash flooding in the area.  Total rain amounts are currently forecasted to be 3-5″ with some local accumulations of up to 7″.  This will contribute to considerable risk of localized flooding.  Latest hydrologic predications indicate the Swatara Creek near Hershey will crest in the moderate flood stage, the afternoon/evening of Thursday, September 2nd.  At this time, wind damage is possible, but not as much of an issue as probable flash flood issues.  This forecast could change and at this time our area is under a Flood Watch.
Some pre-flash flood issues to address – 
Do not travel unless absolutely necessary if flooding is occurring. If you have a storm water drainage inlet on your property, please make sure it is clear of debris. (the Township's Public Works Department will be checking street inlets)
If you are traveling and encounter a roadway that has water across it, especially water that is flowing across the roadway, do not drive into the water.  "Turn around, Don't drown"  (If you become stranded in flood water, emergency crews may need to rescue you, tying up resources for other emergencies)
When encountering a roadway that is barricaded and closed, please turn around and find an alternate route.  There may be a hazard beyond the closure that you cannot see.
If your basement has substantial flooding, keep in mind that basement walls and foundations may be compromised by water and sudden evacuation of water from that space can result in collapse of the basement walls.
We will be communicating roadway flooding and closures via our Crimewatch Page in the Broadcast feature which will push to our social media feeds on Twitter and Facebook.  Any messages that may be isolated to a certain neighborhood or may necessitate a message to go out via telephone will be broadcast through the Township of Derry Nixle feed.  You can sign up and follow our Crimewatch Page HERE and sign up for Nixle HERE.