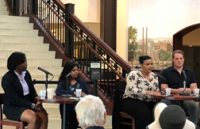 The final Hershey All Things Diversity series for this season featured the personal experiences of people who live and work in Derry Township and come from a variety of diverse backgrounds.
The panel shared their personal experiences related to homosexuality, racism, and immigration to the United States. Derry Township Supervisor Susan Cort served as moderator for the discussion held at The Hershey Story Museum on May 21, 2018.
The members of the panel openly discussed events in their lives when they felt they were treated badly because of their race, nationality, and sexual orientation, and when they received care and support from champions in their lives.
This panel discussion will provide an opportunity for Hershey community members, of different backgrounds, to share their experiences living or working in Hershey and what we can do, as a community, to be more inclusive than we already are.