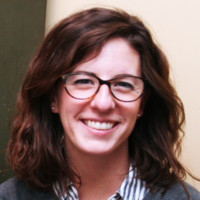 Hershey Public Library Director Laura O'Grady is heading to a new position next month but leaves behind a chapter full of accomplishments at Derry Township's library.
During her tenure, O'Grady led the renovation of the library which allowed for a brand-new youth services wing and reading garden. The project was supported by the Hershey Library Endowment Trust, the Friends of Hershey Public Library, the Keystone Grant for Public Library Facilities, guided by the library staff and community.
Beyond the physical space in the library, O'Grady focused on removing barriers to library services. "We re-examined our collection, our website, and even our customer service model to make library services more welcoming and accessible to the whole community, not only our regular users," said O'Grady. "My goal was to make the library an exciting and welcoming place for people to want to visit. With new programs, enticing displays and a more visible staff in the community, we were able to accomplish that," she added.
During the pandemic, O'Grady and her team reimagined library services – ramping up virtual reference services, issuing digital library cards, virtual story time, and virtual book groups. "We worked as a team to figure out how much of regular library services we could offer without in-person capabilities, and we came up with a lot of creative solutions," she said.
When it came time to re-open, O'Grady established lobby and curbside pickup services, a home delivery service, continued virtual programming, and followed all guidance on how to safely circulate library materials. She also led the library staff through difficult township-wide cuts which resulted in the elimination of several positions at the library. "It was tough but our team did the best they could to work the public desks and reshelve the library returns to keep up with community demand," she added.
As for the future of the Hershey Public Library, O'Grady hopes that the next library director will continue to engage with the community to ensure that the library is providing top tier services to all residents. "Hershey Public Library has incredible support within the community so I believe the Friends of the Library and the Hershey Library Endowment Trust will continue to support library improvements and library events that make it one of the best libraries in the region," said O'Grady.
O'Grady thanks everyone for supporting the library, including the public, the Friends of the Library, the Hershey Library Endowment Trust, Township administration and of course, the dedicated library staff. "My biggest thank you is to the staff who made coming to work every day a total delight. Between the construction project and the pandemic, I feel like we've weathered some big storms together and we couldn't have done it without everyone's help," she concluded.
"I speak for all board members when I say that Laura has done a wonderful job and she will be greatly missed. It has simply been a pleasure working with her and we wish Laura and her family all the best," said Derry Township Board of Supervisors Chairman Chris Abruzzo.
O'Grady's next position will be as the Vice President of Advancement for York Day Nursery, where her two-year-old son attends daycare. The move allows her to stay closer to home and support an organization that's close to her heart.