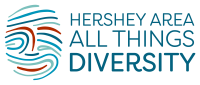 Hershey Area All Things Diversity announces its 2018-19 educational series, which will be presented at five sessions from September through May. This is the third year that the sessions on diversity and inclusion have been organized through a collaborative effort by the Township of Derry, Downtown Hershey Association, Penn State Health Milton S. Hershey Medical Center, The Hershey Company, Hershey Entertainment & Resorts, and The Derry Township School District.
Hershey Area All Things Diversity has created the series of events to educate, create awareness, and promote acceptance and inclusion. Last year's sessions opened dialogue on Bullying, Religious and Generational Differences, Lesbian, Gay, Bisexual and Transgender Community Members, and Diverse Populations.
"The community has shown a great interest in learning about these topics and being goodwill ambassadors in our community," said Susan Cort, member of the Derry Township Board of Supervisors. "The speakers have shared their professional, educational, and personal experiences with the audience, reminding us why it is so important to celebrate diversity and promote inclusion to maintain a healthy community," she added.
The first session in the 2018-19 series is "Empowering Women and Girls" to be presented by Sharice Johnson, Senior Division, Student Programs Leader for Milton Hershey School on September 12. Johnson is the creator of Girls Grace, an annual event that features keynote speakers and activities to inspire students to pursue their dreams with confidence. She also engages Milton Hershey School seniors at weekly meetings of The Young Women's Alliance Club that she created. She will speak on the importance of believing in yourself.
The remaining sessions include "Anti-bias Training – Equity and Equality" in November, "Addressing Micro-Inequities and Micro-Aggressions" in January, "Promoting Acceptance and Tolerance" in March, and the last session in the series to be presented in May, will be "Addressing the Needs of Individuals on the Autism Spectrum."
The sessions are held from 5:30 to 7:15 p.m. on the main level of The Hershey Story located at 63 West Chocolate Avenue, Hershey. A light supper and dessert will be provided to attendees. The sessions are free, but seating is limited, and advance registration is required. More information is available on the Township's website.