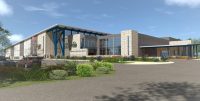 Please click here for information on the Community Center Campaign and donations.
The current Hershey Recreation Center has served our community well since 1963. Now, it's time for us to build a new center to meet the needs of our residents for future decades to come.
Plans are underway for the new Hershey Community Center, which will provide additional recreational and social opportunities. The new center, which will open in the spring of 2020, will give residents of all ages more room to swim, participate in classes, hold community meetings and enjoy socializing together.
Derry Township Supervisors considered five options with various pool offerings ranging from a cost between $28,820,000 and $36,737,250 for the new Community Center after hearing presentations from the architects, construction manager, programming consultant, and finance team. The four Board members in attendance voted unanimously on Option A, which includes a 35-meter competition pool, a leisure pool, gym, 13k sf fitness space, a senior center, and multi-purpose room.
The project is expected to be bid in October, 2019.
Schematic Designs
Construction Cost Estimates
Funding Analysis
Comparison Chart
Community Center Programming Options
Option A
Option B
Option C
Option D
Option E
The Board of Supervisors reviewed the following analysis provided from Sports Facilities Advisory, LLC at the Board's regularly scheduled meeting on Tuesday, August 27, 2019:
DTCC PT Comparative Facility and Performance Expectations
Option A_Derry, PA_Pro Forma_190719
Option A (Without Power Train)_Derry, PA_Pro Forma_190820
This website page will be updated as new information becomes available. Please check back so you can learn more about the project. The success of the new Hershey Community Center depends on your understanding and support.