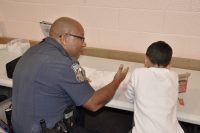 This week, the Derry Township Police Department joined in a partnership with Big Brothers Big Sisters of the Capital Region.
Police officers participating in the "Bigs in Blue" program will spend quality time as mentors to students at Hershey Intermediate Elementary School.
The program is a national initiative which was launched locally in 2016. The partnership with the Derry Township Police Department is the 10th in the capital region service area.
Chief of Police Garth Warner said, "The department's participation is a natural extension of what our officers do, day-in and day-out for their community. It allows our officers to act as mentors to those littles who are in need, hopefully changing their outlook on their world, as well as their perception of what police officers stand for, work for, and represent. It also allows our officers to get to know the youth in our community on a different level, and hopefully, break down barriers between us."
The program is made possible by funding provided by The Hershey Company, Hershey Entertainment & Resorts, and the Walmart Foundation.