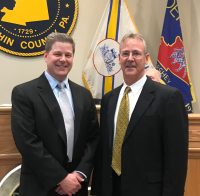 The Township of Derry Board of Supervisors voted unanimously at their November 13, 2018 meeting to appoint Christopher Christman as the Township Manager to begin on November 26, 2018. Christman will fill the position that became vacant with the retirement of James Negley on November 5.
Christman has 19 years of experience in county and local government and most recently served as the Township Manager of Palmer Township in the Lehigh Valley Region of Pennsylvania, a position he has held since 2011. He earned his Master of Arts in Political Science from Lehigh University and is a graduate of Penn State University, State College, PA.
His professional affiliations include membership in the International City/County Managers Association, Association of Pennsylvania Municipal Managers, Government Finance Officers Association, Pennsylvania Municipal League, Northampton County Association of Township Officials, and the Delaware Valley Health Trust Trustee & Executive Committee.
"We are so pleased to have Chris on board. His experience and proven track record of strong leadership give us a high level of confidence that he will be a perfect fit as Derry Township's next Manager," said Supervisor Justin Engle.
Christman and his wife Teena are looking forward to moving to Hershey with their two children, Emily (8) and Elliot (6). He said, "It is a tremendous honor and privilege to serve this community.  I am excited to help this Board achieve its goals and work with a staff that is as accomplished as any I have worked with throughout my career.  I am grateful for the confidence and trust our Supervisors have placed in me and I am anxious to get started.  I look forward to calling Hershey my home and continuing to make Derry Township a great place to live, work and play."
Picture: Chairman Marc Moyer (right) with new manager Chris Christman after taking his appointed oath of office.