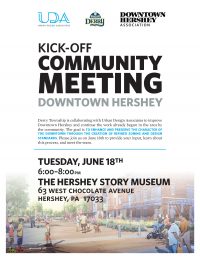 A kick-off meeting will be held on Tuesday, June 18 from 6:00 to 8:00 p.m. at the Hershey Story Museum, 63 W. Chocolate Avenue.
Derry Township is collaborating with Urban Design Associates to improve Downtown Hershey. The goal is to enhance and preserve the character of the downtown through the creation of refined zoning and design standards. Join us to provide your input, learn about the process, and meet the team.
Refreshments will be served.