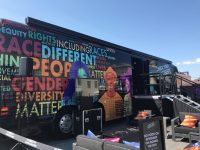 More than 250 community and business members participated in the CEO Action Check Your Blind Spots unconscious bias tour, which came to Hershey on June 3, 2019 in commemoration of the two-year anniversary of the CEO Action for Diversity & Inclusion™ Pledge.
The free tour helps people learn more about how unconscious bias can shape our likes and dislikes, and our judgments about people's character, abilities and potential. Visitors were exposed to the nuances of unconscious bias through a series of immersive and interactive elements that use innovative technologies, including virtual reality and gamification techniques.
The tour is making 100 stops across the country in 2019, with hopes of encouraging one million people in person and online to take the I Act On Pledge and create more inclusive workplaces and communities.
The CEO Action for Diversity & Inclusion Pledge is the largest CEO-driven business commitment to advance diversity and inclusion in the workplace. It has been signed by more than 650 CEOs across the nation, including the leaders at The Hershey Company, Hershey Entertainment & Resorts and Penn State Health.
The Check Your Blind Spots Mobile Tour in Derry Township was presented by Hershey Area All Things Diversity, an organization committed to promoting inclusion and diversity in the community. The organization is led by representatives from Derry Township, The Downtown Hershey Association, Derry Township School District, The Hershey Story Museum, Penn State Health, The Hershey Company and Hershey Entertainment & Resorts. For more information on future Hershey Area All Things Diversity events, please follow them on Facebook.
The video was produced by JPL and given in support of building better understanding in the workplace and in our communities.