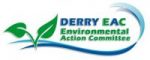 Derry Township and Derry Environmental Action Committee (DEAC) are submitting a TreeVitalize grant application to make "almost free trees" available to Derry Township residents. If you are interested, please complete the Property Owner Tree Request Form and mail or deliver it to Township of Derry, 600 Clearwater Road, Hershey, PA 17033 (off HersheyPark Dr.).
Payment does not need to be submitted with the application because of the uncertainty of the TreeVitalize Grant request being funded. If the funding is approved, applicants will be contacted for a $40 payment per tree. One or two trees can be requested.  The deadline for submitting the Tree Request form is July 31st.
If the request is funded, the trees will be planted in April, 2018 by our wonderful community volunteers. Homeowners are responsible for watering and caring for the planted trees. Please note that even if a grant is approved it may not be sufficient to subsidize all of the trees requested, in which case, the date that the application is received will be used on a first come, first served basis. If you have any questions about this program, please call the DEAC TreeVitalize Coordinator, Chuck Gassert, at 566-5058.