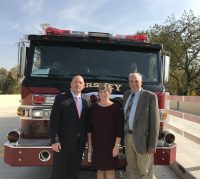 Local, County, and State officials gathered with local stakeholders for a ribbon-cutting ceremony on November 2, 2016 to celebrate the successful completion of the Park Boulevard relocation project.
The project included replacing a 60-year old, structurally deficient bridge, and relocating Park Boulevard south of its original location. Safety was enhanced by widening Park Boulevard, signalizing the intersection with the Hershey Entertainment Complex, improving emergency medical access to the Complex, and installing a new shared use sidewalk to provide a connection between the intermodal facility and the Hershey Entertainment Complex.
The relocation of Park Boulevard provided approximately 38 acres for the future expansion of Hersheypark, which will ultimately increase the tax revenue collected by Derry Township.
The $9.7 million project was funded through a Dauphin County Liquid Fuels grant, Derry Township, State, and Federal funds, The Hershey Company, and Hershey Entertainment & Resorts.
Supervisor John Foley expressed the Township's gratitude to the Dauphin County Commissioners, Representative John Payne, The Hershey Company, Hershey Trust, and Herbert, Rowland and Grubic, for the instrumental role they each played in making the project happen.
Supervisors John Foley, Susan Cort, and Matthew Weir posed for a picture in front of a Hershey Volunteer Fire Truck.