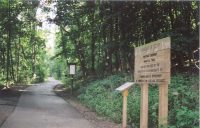 Repairs are being made to the Jonathan Eshenour Bicycle and Pedestrian Trail until almost the end of the month between Shank Park and Stoney Run Road. The trail is CLOSED during this time due to the dangerous conditions and risks associated with the operation of construction equipment.
Please use other sections of the trail for the short duration of the repairs. This is a necessary inconvenience for a few weeks to restore the trail to a safe condition. Please be considerate of the equipment operators and abide by the closing.
These repairs are being entirely funded by the very generous Jonathan Eshenour Foundation.