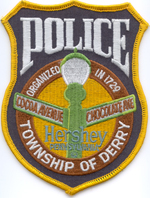 Adolescents in Derry Township will be rewarded by the Derry Township Police Department when they are observed doing the right thing around the community. Officer Andrew Herr recommended the program to Chief Garth Warner. He said, "The goal of this program is to strengthen the relationship between adolescents and the community by reinforcing positive behavior by building trust between children and the police. We want to show them that not all contact with the police has to be negative."
Derry Township police officers will be issuing these positive tickets along with vouchers for free items at local businesses. All recipients will be eligible for a grand prize drawing at the end of the summer season.
Chief Garth Warner said, "It is important for law enforcement to reach out and interact with the youth of the community in a positive manner. Positive interactions will foster better relations with our community and hopefully the children that we have contact with in this manner will see that our true mission is to serve our community and create a safe environment for everyone. Even though Officer Herr's idea is not of his own invention, as similar programs have been implemented in other areas, it is the type of community-oriented approach I like our officers to have.
Derry Township would like to acknowledge Wendy's, Mr. Sorrento's Pizza, Papa John's, Subway, and The Hershey Company for donating the vouchers for this program. A donation from the Tanger Outlet was received to print the tickets, and Hershey Entertainment & Resorts Co. donated several grand prize items, which will be presented to randomly selected positive ticket recipients at a Board of Supervisors meeting in the fall.
If your business would like to donate vouchers for this program, please contact Officer Andrew Herr at (717)534-2202, or ajherr@derrytownship.org.