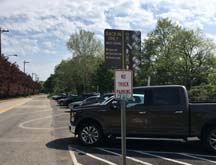 Back-in angled parking will be installed westbound on Chocolate Avenue near 11 East Chocolate Avenue Wednesday night around 10:00 p.m. through Thursday morning. Traffic will be restricted to one lane during this time.
Back-in angled parking offers several benefits to motorists, bicyclists, and pedestrians. It eliminates the difficulty of backing into traffic that is present with pull-in angled parking, provides motorists with better vision of bicyclists, pedestrians, and other vehicles, and also improves safety when loading and unloading cargo and helping children in and out of car seats. With back-in angled parking, open car doors direct young children toward a point of safety rather than out into the street.
Back-in requires a motorist to signal prior to the space, stop just past the space, and then slowly back in until the vehicle reaches the curb. In conjunction with this improvement, the private driveway adjacent to 11 East Chocolate Avenue will be converted to one-way out.
Check out the following examples of back-in angled parking in other communities:
Instructions for parking in a back-in angled parking space
Video providing background information on back-in angled parking