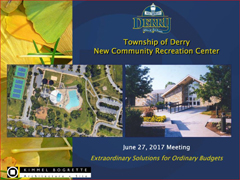 Slide Presentation     Audio   Video
A public meeting was held on Tuesday, June 27, 2017 to present the conceptual layout for an 86,663 sq. ft. community center to replace the Hershey Recreation Center, located at 605 Cocoa Avenue. Derry Township's Director of Parks and Recreation, Matthew Mandia, provided the history of the center. The Hershey Chocolate Corporation built the center in 1963 in memory of Milton S. Hershey and the Township took over its operation in 1979.
 He explained the challenges that are faced in operating an out dated facility. He said, "The difficulties and costs increase every year to maintain the 54-year-old facility and there are limitations in meeting the recreational needs of the community." 
 His presentation included photographs of the Recreation Center to illustrate to the Board of Supervisors and the public the degree of difficulty to maintain deteriorating pipes and failing equipment.
 The  condition of the facility need to implement a plan for the future led to the development of a stakeholders group in 2014 to formulate a vision for a new facility. The vision for a new facility was a process that involved an evaluation of the existing facility, and collaborative planning with representatives of the Derry Township School District, the Mohler Senior Center, the aquatic community, the Penn State Hershey Milton S. Hershey Medical Center, Milton Hershey School, and members of the community. Ballard King Associates was engaged in 2015 to conduct a feasibility study and market analysis for the project. Two listening sessions were conducted to receive input on what is important to the pubic in a new community center.
Kimmel Bogrette Architecture and Site Inc. began to establish the conceptual layout in 2016. Jim Bogrette presented the preliminary floor plans and explained the planning process and development of aquatics, senior, passive, and active areas.
 An analysis on the operational costs and the potential revenue to be generated in the proposed facility is currently being conducted by Ballard King Associates.
Greg Koussis, Capital Construction Management, LLC, discussed the cost of $25,660,178 for the proposed center with an alternate to increase the size of the competition pool to 50 m for $3,832,401. He performed a study to determine the cost of renovating the existing 32,000 s.f. facility for $10,919,658 and renovating with an addition for $26,457,263. He said, "The cost would be higher and we would still face the structural and mechanical challenges of a facility at the end of its useful life."
 Lou Verdelli, RBC Capital Markets reviewed the financing options and the possibility of the funding from a combination of a capital campaign, grants, and bond financing.
The tentative schedule is to begin construction in the spring of 2019 and completion in May, 2020.
Questions or comments? Please contact Parks and Recreation Director Matt Mandia.