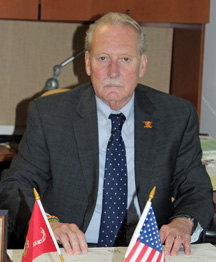 Township Manager James Negley has announced his plan to retire effective November 5, 2018, marking 45 years of service to the Township.
Negley was hired in 1974 as a police officer and was promoted to detective in 1976. He rose to the top position of chief of police for the Derry Township Police Department in 1991. He served as interim township manager in 1993 and again in 1996 when he was ultimately named manager.
"I have been with Derry Township for a long time and feel fortunate to have had this wonderful opportunity. I have enjoyed working with the staff and members of Board of Supervisors. I feel it is time to end my career in government services and to slow down and more fully enjoy my other interests," Negley expressed. He will retire in Mount Joy with his wife of 46 years, Deborah, and spend more time with his daughter, son-in-law, and two grandsons who live nearby in Mt. Gretna.
"Jim Negley has spent most of his adult life working for Derry Township," said Chairman of the Board Marc Moyer. We owe a great amount of gratitude to him for his dedication, leadership, and integrity for the many years that he has been with Derry Township," said Moyer.
We will lose decades of experience and history in the administration of government in Derry Township with Jim's departure. He was a pillar of strength and stability through nuclear threats, natural disasters, times of transition, periods of financial austerity, as well as the many achievements and successes throughout his career. He will be sorely missed and will leave a monumental gap to fill.
The employees of Derry Township have heavy hearts, but are happy that Jim will retire and take time for himself. They are grateful for the time that they were fortunate to work for a great man and leader.