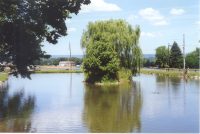 Maintenance work on Bullfrog Valley Pond has begun and will continue through the week of April 16. The water level has been lowered in order for the crews to remove the large silt island that has formed at the mouth of the pond. The material will be removed to re-establish the creek mouth and banks leading into the pond.
This work will temporarily necessitate a detour on the Jonathan Eshenour Trail in the area of the pond. Please follow the detour signs that have been posted to safely utilize the trail during this maintenance period. This work is being completed at this time in preparation for the Annual Fishing Derby on May 5 and the busy spring and summer seasons in the park.
Thank you for your patience and cooperation.