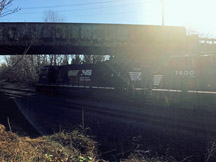 Plenary Walsh Keystone Partners (PWKP) held an informational meeting this week on plans for the Laudermilch Road Bridge to be replaced as part of PennDOT's Rapid Bridge Replacement Project. The Laudermilch Road bridge was built in 1917 is deteriorating and structurally deficient. PWKP will finance, design, construct and maintain 558 bridges throughout the Commonwealth for a 28-year term.
The bridge, which provides a crossing over the Norfolk Southern Railroad, is scheduled to be replaced in April, 2018. Construction is anticipated to take place over six months. Motorists will be detoured to Lingle Avenue during the project.
The new bridge will be 90-feet long and will include two 12-ft. lanes and 4′ shoulders with a new innovative application called Polyester Polymer Concrete Overlay to protect the bridge deck from the infiltration of deicing salts to reduce long-term maintenance costs.
More information on the Rapid Bridge Replacement Project and an up-to-date schedule as the project progresses can be viewed at www.parapidbridges.com.