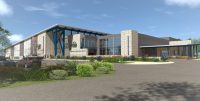 Please click here for the latest information about the Community Center project.
Please click here for information on the Community Center Campaign and donations.
The current Hershey Recreation Center has served our community well since 1963. Now, it's time for us to build a new center to meet the needs of our residents for future decades to come.
Plans are underway for the new Hershey Community Center, which will provide additional recreational and social opportunities. The new center, which will open in the spring of 2020, will give residents of all ages more room to swim, participate in classes, hold community meetings and enjoy socializing together.
Video of the October 9, 2018 Design Development Presentation
Community Center Project Public Board Meeting Timeline
Hershey Community Center Business Plan
Video of the September 25, 2018 Business Plan Presentation
Schematic Slide Show Presentation
Audio recording of the May 8, 2018 Board of Supervisors Meeting (presentation begins at 19:04)
Video of the May 8 Board of Supervisors Meeting
This website page will be updated as new information becomes available. Please check back so you can learn more about the project. The success of the new Hershey Community Center depends on your understanding and support.