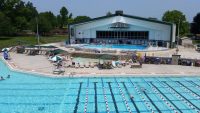 The public is invited to attend a special fundraising event inside the empty outdoor pool to help raise money for the new Hershey Community Center.
Adult Swim: Last Call will be held Friday, September 14 from 5:30 to 7:30 p.m. and feature food and drinks donated by area businesses.
The event is $100 per person and contributions are tax-deductible.
In the next few weeks, Derry Township Parks and Recreation will hold a fun, free community-wide event before the outdoor pool closes. People will have a chance to learn more about the schedule for the current facility and plans for the new one.