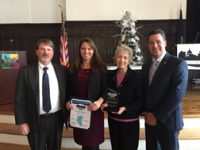 The Downtown Hershey Association was recognized by the Dauphin County Commissioners and Dauphin County Planning Commission with a Premier Project Award for the implementation of "Downtown Hershey: A Continued Plan for Revitalization."
The Premier Project Award is intended "to acknowledge professional leadership in creating projects which aid communities as they make planning decisions, promote smart growth, and spark revitalization," according to the five project guidelines: effectiveness, ease of replication, community involvement/partnerships, smart growth, and comprehensive planning.
Since the completion of "Downtown Hershey: A Continued Plan for Revitalization" in January 2015, the Downtown Hershey Association has implemented a full Life on Chocolate event series, completed several organizational initiatives, and is supporting physical improvements downtown in 2017. The organization's accomplishments would not be possible without key partnerships, collaboration, and the efforts of our many dedicated volunteers. Visit DowntownHershey.com for more information.
Pictured are Charles Emerick, Director of Community Development, Lauren Zumbrun, Director of Economic Development, Pamela Whitenack, Chairwoman of the Downtown Hershey Association, and State Representative Tom Mehaffie.