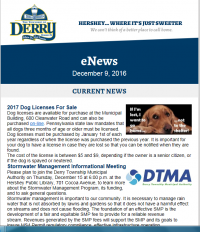 Derry Township received two awards in the Pennsylvania State Association of Township Supervisor's (PSATS) 49th Annual Township Citizen Communication Contest. The annual contest recognizes townships that have successfully communicated news, services, and events to its citizens.
Derry received first place for its eNews and tied for third place for its quarterly Township News in the electronic newsletters category.
The contest attracted entries from across the Commonwealth. This year, 36 townships submitted 103 entries to the competition. Entries were judged on the usefulness of information presented, how well the information was communicated to residents, and the overall attractiveness and readability.
"The Township strives to maintain effective communication with residents through our electronic weekly eNews, quarterly newsletter, website, Facebook, and Twitter pages. We encourage everyone to subscribe to the weekly e-newsletter and quarterly newsletter on our website and to follow the Township on social media for timely news, events, and important updates,' said Township Supervisor Vice-Chairwoman Susan Cort.
"In addition to Township news, events and services, the eNews is a source of information on special events happening throughout the community," she added. Please visit www.derrytownship.org to register for the weekly eNews and quarterly newsletter. Residents may also call the Township office at 717-533-2057, or email staff members or members of the Board of Supervisors through the website.