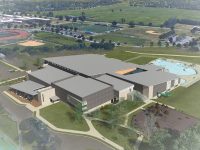 The Derry Township Board of Supervisors voted to proceed to the Construction Documents and Bidding Services Phase of the proposed Community Center Project following a presentation on the design development drawings and the project budget at its meeting on Tuesday, October 9, 2018. The new community center would replace the aging facility that has served the community since 1963.
The board took this action after five years of planning and community input and specialized consultants who developed a market analysis, financial planning tools, and a business plan that explored operational costs and revenue projections.
The proposed $32 million Center would feature 113,000 square feet of space for events and programs and three pools for aquatic activities including an indoor leisure pool, an indoor 50-meter pool, and an outdoor seasonal pool. The Center would provide a youth/teen center, an indoor walking track, a fitness center, a full-size gym, a café, child watch center, meeting rooms, and space for the Senior Center and People Movers senior transportation service.
"A new Hershey Community Center will enable us to provide much more in recreational offerings to the residents. It can be a welcoming place for all ages to gather and participate in activities," said Director of Parks and Recreation Matthew Mandia. "The mission for the Center is to create a culture of community grounded in providing a gathering place for all ages and abilities to engage in socialization, exercise, and education, focused on improving the quality of life and promoting healthy lifestyles for our residents," he added.
Mandia said, "The 50-meter pool will provide much needed space for residents to swim and take classes and for local swimmers, divers, synchronized swimmers, and Special Olympians to use." The 50-meter pool also will provide the ability to host competitive swimming, increasing the revenue that can be generated at the Center.
The capital campaign for the Center is off to an encouraging start with a $1,000,000 donation from The Hershey Company, leaving $4 million to raise and a balance of $27 million to be financed. Supervisors and staff continue to explore cost-saving measures and additional revenue options to reduce the impact on tax payers. "We have carefully and thoughtfully examined the cost and benefits associated with building a new community center and feel confident we are making a commitment that will serve our residents well for decades to come," said Supervisor Susan Cort.
Supervisor Matthew Weir expressed "It's easy to put dollar signs on bricks and steel, but much more difficult to place a value on the quality of life that we have experienced growing up in Derry Township. We should look at the amazing opportunities available to us and focus on how a new community center can enhance our community."
The design firm of Kimmel Bogrette Architecture + Site will finalize the construction documents and the project will be bid in January 2019. The existing recreation center is expected to close in March 2019 with a 15-month construction schedule and a grand opening in June 2020.
For more information on the project visit the Township's website, www.DerryTownship.org. To learn more about the capital campaign visit www.HersheyCommunityCenter.org.