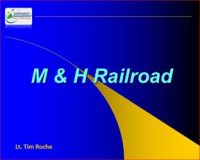 The Township of Derry and the Borough of Hummelstown held a joint public information session on Wednesday, May 3, to discuss what is known on the proposed M&H Railroad project and related safety concerns.
M&H Railroad was awarded a state grant of $220,500 through the Rail Transportation Assistance Program (RTAP) to rehabilitate about five miles of track, a wye and a turnout. This initial funding would be used by M&H to relocate their freight interchange from Middletown to Hummelstown to transport freight, including hazardous materials from Hummelstown across Route 322/422 to customers in Middletown and adjoining townships.
In a detailed slide presentation, Lieutenant Timothy Roche showed the location of the crossings, shared safety concerns, and provided the results of a speed and volume study that was performed on SR322.
Representatives from the Lower Dauphin School District, Derry Township School District, Penn State Health Milton S. Hershey Medical Center, The Hershey Company, Hershey Entertainment & Resorts Company, Dauphin County, Senator John DiSanto's office, and Representative Tom Mehaffie were in attendance to voice their opposition to the project.
The Township of Derry, the Borough of Hummelstown, and community stakeholders will continue to work collaboratively against the project. Citizens are encouraged to send letters of concern within the next week to PennDOT, state officials, and the governor's office at the addresses below.
The Honorable Tom Wolf
Governor
Commonwealth of Pennsylvania
508 Main Capitol Building
Harrisburg, PA 17120
Senator John DiSanto
Senate Box 203015
Room 353, Main Capitol
Harrisburg, PA 17120-3015
Representative Thomas L. Mehaffie III
159 B East Wing
PO Box 202106
Harrisburg, PA 17120-2106
Secretary Leslie S. Richards
PA Department of Transportation
8th Floor
Commonwealth Keystone Building
Harrisburg, PA 17120
Michael Keiser, P.E.
District Executive
PA DOT District 8-0
2140 Herr St.
Harrisburg, PA 17103-1699