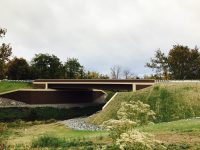 Derry Township received an award Monday, April 24 at the 95th Pennsylvania State Association of Township Supervisors (PSATS) Conference held in Hershey for the Park Boulevard Bridge Project. PSATS sponsors the statewide Road and Bridge Safety Improvement Contest each year in partnership with the Pennsylvania Highway Information Association (PHIA) and the state Department of Transportation (PennDOT) to recognize townships for their efforts to make roads and bridges safer.
The new 126-foot bridge over Spring Creek was designed by Herbert, Rowland and Grubic, Inc., to replace a deficient, 60-year old bridge. The bridge and road improved safety by stabilizing the load capacity and increasing the sight and stopping distance on Park Boulevard.
Chairman of the Board of Supervisors said, "We are honored to receive recognition for this safety improvement in Derry Township. This project was a 10-year collaborative effort between the Hershey Trust, Hershey Entertainment and Resorts, The Hershey Company, Representative John Payne, Dauphin County Commissioners and the Derry Township Board of Supervisors. The project connected vehicular and pedestrian paths from the downtown to the entertainment complex and significantly improved the response time for police, fire, and emergency medical services. As the former Assistant Fire Chief and firefighter for 23-years with the Hershey Volunteer Fire Department, I am pleased that first responders can now take the most direct route to the Hershey Entertainment complex, which greatly has improved response time to this area. Because of the foresight to make emergency services a critical component of this roadway project, our emergency vehicles now have a route that reduces our response time to those in need by at least 2-3 minutes, making our community significantly safer"
In addition to the bridge and road safety enhancements, the project also enhances pedestrian safety with a designated pedestrian walkway to access the Intermodal Transportation Center, Hershey Entertainment Complex, and downtown with a protected sidewalk through the underpass on Ridge Road.
Foley added, "We are grateful for the team effort of the entities involved, the engineering services provided by Herbert, Rowland, and Grubic, Inc, and the funding from a Dauphin County Liquid Fuels grant, federal and state funding, The Hershey Company, and Hershey Entertainment & Resorts that made this award-winning project possible."