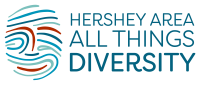 ACCEPT, RESPECT, and APPRECIATE our differences.
The Township of Derry is committed to advancing equity and inclusion for all residents and visitors. The Township supports fairness and anti-discrimination, and values the differences and diversity within our community. The Township fosters a social climate which makes all residents and visitors feel welcomed.
Commitment to Equity and Inclusion – Resolution 1510, Adopted April 25, 2017
Hershey All Things Diversity Events
The Township of Derry is pleased to invite the community to the Hershey Area All Things Diversity Sessions for 2018-2019. The educational sessions are organized by the Township, Downtown Hershey Association, Penn State Health Milton S. Hershey Medical Center, The Hershey Company,  Hershey Entertainment & Resorts, and The Derry Township School District.
All of the sessions will be held on the main level of The Hershey Story located at 63 West Chocolate Avenue, Hershey.  A light supper and dessert will be provided to attendees. The sessions are free but seating is limited and advance registration is required.
2018-19 Series
Empowering Women and Girls
September 12, 2018, 5:30-7:15 p.m., Hershey Story Museum
First Session of Hershey All Things Diversity Series Empowers Women and Girls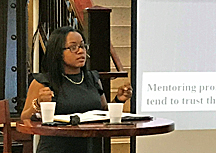 "Be Empowered by Those Who Have Been Empowered."
 Hershey All Things Diversity opened the 2018-2019 series to a full house with a message from Sharice Johnson, Senior Division, Student Programs Leader, Milton Hershey School,
Johnson defined what being an empowered woman means to her. She said, "An empowered woman is someone who knows her strengths and isn't afraid to embrace them. To be empowered means to be in control of your life and aware of your capabilities to take on your biggest dreams."
She presented four methods for women to become empowered. The first method is Purpose. She discussed the importance of developing skills and obtaining an education. She encourages women to "Find your spark." She explained, "It is a process and takes time, but what you are passionate about is your spark. Your spark gives you energy, joy, and purpose." Johnson's spark is mentoring. She said, "I love the vision and the purpose of Milton Hershey School."
Modeling plays a major role in helping girls to grow to become empowered women. "Youth are always watching. Be a positive role model. People learn by watching others and they imitate what they see. Empower others by showing them how to do things the right way," she encourages.
Johnson urged the audience to use your Voice. She told them, "You are an equal." She believes that we should use our voice to express our opinions. She said, "Using your voice can affect change and eliminate barriers."
We can empower by serving as a Mentor. "Teach, inspire, motivate. Mentoring promotes positive social relationships," Johnson explained. A mentor can serve as a support system, a role that the Young Women's Alliance Club, that was created by Johnson, fills for female students at Milton Hershey School. The club meets once a week for two hours to provide a place where the students can feel safe and share their feelings and talk about their challenges. She said, "The girls look forward to it and they develop into strong young ladies."
This year, October will mark the third year of Girls Grace, an overnight conference for 200 Milton Hershey School female students, which was a dream that became a reality for Johnson. Attendees are provided with the opportunity to attend four of 16 workshops offered at the conference.
Milton Hershey School students I'yonna Jones, Nashaya Goodman, Diana Creech, and Najiyyah Pendleton, shared their experiences participating in the Young Women's Alliance Club and Girls Grace and what it has meant to them.
I'yonna said, "Girls Grace taught me I am and will be something."  I've seen my friends grow and they have seen me grow and that's how we empower one another," added Nashaya"
"Young Women's Alliance Club taught me to embrace who I am and to become more confident," said Diana. Najiyyah said, "Young Women's Alliance Club taught me I mattered and to keep your standards high."
When Johnson opened the floor to questions from the audience, Rebecca Thatcher-Murcia introduced herself and then introduce Rebecca McCarty, a Milton Hershey School student who was sitting beside her to talk about Girls Grace. Leading up to the audience's questions, student Rebecca was so excited about Girls Grace that she had to share how she felt about it with Rebecca.
The students who have had the fortune to participate in the Young Women's Alliance Club and Girls Grace who were in attendance brought an energy to the room and exuded confidence, happiness, and an appreciation for what Johnson's leadership and mentoring programs have given to them.
Johnson closed with, "Be empowered by those who have been empowered. Empowerment programs empower girls. Pass it on! I challenge you all to empower others."
Anti-bias Training – Equity and Equality
November 14, 2018, 5:30-7:15 p.m., Hershey Story Museum
This session will feature Dr. Paul Haidet who will present on the topic of unconscious bias. Unconcious biases are social stereotypes about certain groups of people that individuals form outside of their own conscious awareness.
Paul Haidet is a general internist, health-services researcher, educator, husband, father, and lover of jazz music. He received his undergraduate and medical degrees from Penn State University, and completed a residency in internal medicine at the Milton S Hershey Medical Center and Penn State University Hospital. He inaugurated the role of Director of Medical Education Research and serves as Professor of Medicine, Humanities, and Public Health Sciences at the Penn State College of Medicine. Dr. Haidet has published widely on a variety of topics related to teaching, communication, and the humanistic care of patients, and he has won a number of regional, national, and international awards for his work. His current interest is in the improvisational aspects of patient-physician communication, and he is using his lifelong interest in jazz to create new educational methods and models to foster advanced communication skills among physicians at multiple levels.
For questions about accessibility or to request accommodations based on a disability, please contact Amy Bischof at abischof@HersheyStory.org or 717-520-5591. Seven business days advance notice of need for accommodations is requested.
This program is underwritten by Penn State Health Milton S. Hershey Medical Center and College of Medicine, The Hershey Company and Hershey Entertainment and Resorts Company.
Schedule of Events:
5:30 p.m. – 6 p.m. Light Dinner
6 p.m. – 7:15 p.m. Presentation
7:15 p.m. – 7:25 p.m. Dessert
Addressing Micro-Inequities and Micro-Aggressions
January, 2019, 5:30-7:15 p.m., Hershey Story Museum
Promoting Acceptance and Tolerance
March, 2019, 5:30-7:15 p.m., Hershey Story Museum

Addressing the Needs of Individuals on the Autism Spectrum
May, 2019, 5:30-7:15 p.m., Hershey Story Museum
If you wish to support the mission of the All Things Diversity sessions, donations may be made online (please specify that it is for All Things Diversity), or write a check to The Hershey Story, with All Things Diversity in the memo line, 63 W. Chocolate Avenue, Hershey, 17033.
Click here to see articles on the 2017-2018 Hershey All Things Diversity Series