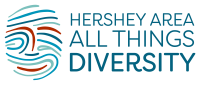 ACCEPT, RESPECT, and APPRECIATE our differences.
The Township of Derry is committed to advancing equity and inclusion for all residents and visitors. The Township supports fairness and anti-discrimination, and values the differences and diversity within our community. The Township fosters a social climate which makes all residents and visitors feel welcomed.
Commitment to Equity and Inclusion – Resolution 1510, Adopted April 25, 2017
Hershey All Things Diversity Events
The Township of Derry is pleased to invite the community to the Hershey Area All Things Diversity Sessions for 2018-2019. The educational sessions are organized by the Township, Downtown Hershey Association, Penn State Health Milton S. Hershey Medical Center, The Hershey Company,  Hershey Entertainment & Resorts, and The Derry Township School District.
All of the sessions will be held on the main level of The Hershey Story located at 63 West Chocolate Avenue, Hershey.  A light supper and dessert will be provided to attendees. The sessions are free but seating is limited and advance registration is required.
2018-19 Series
Empowering Women and Girls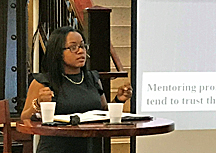 September 12, 2018, 5:30-7:15 p.m., Hershey Story Museum
First Session of Hershey All Things Diversity Series Empowers Women and Girls
Anti-bias Training – Equity and Equality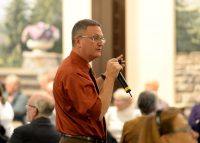 November 14, 2018, 5:30-7:15 p.m., Hershey Story Museum
Dr. Paul Haidet Helps Hershey Honestly Explore Internal Unconscious Bias
Addressing Micro-Inequities and Micro-Aggressions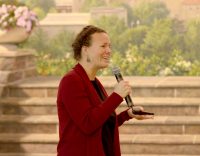 January 23, 2019, 5:30-7:15 p.m., Hershey Story Museum
Hershey All Things Diversity Series Speaker Dr. Ali Michael Provides an Understanding of Micro-Aggressions
Promoting Acceptance and Tolerance

March 27, 2019, 5:30-7:15 p.m., Hershey Story Museum
Diversity, Inclusion, and Social Justice Leader Teaches Hershey How to Open Dialogue
Addressing the Needs of Individuals on the Autism Spectrum
May 8, 2019, 5:30-7:15 p.m., Hershey Story Museum
Panel members include a working adult with Autism Spectrum Disorder, a parent of a child with ASD, and a professor of special education with a Ph.D. in school psychology:
Nathaniel Reed Geyer was diagnosed as a child with an Autism Spectrum Disorder. He currently has ten years experience in public health research in the areas of cancer, obesity, HIV, epilepsy, public health workforce, and Vitamin D ancestry. He has advanced knowledge of statistical, software, and analyses procedures; holds a Doctor of Public Health, a Masters in epidemiology, and a Bachelors in Biology with a concentration in ecology. He is an experienced scholar practitioner with a broad background in bio-statistics, epidemiology, and geographical information systems (GIS). He has submitted abstracts to conferences and in the process of publishing key manuscripts in the literature, especially in the areas of HIV epidemiology, obesity, cancer, and epilepsy.
Sherry Christian, anchor at CBS 21, and parent of a daughter with Autism Spectrum Disorder. Sherry joined CBS 21 in July of 2002. Before her employment with CBS 21, Sherry held positions in Detroit, Baltimore, Florence, South Carolina and Tallahassee, Florida. Sherry says she was primed for a career in television news by her father's military career. Growing up she lived in many different cities including Manila, Philippines. During her career in television broadcasting, Sherry has earned numerous awards including an Emmy for Outstanding Local Newscast for CBS 21 News This Morning. She has served on the boards of many civic organizations including being a past president and board member for the Greater Harrisburg Area Autism Society. Sherry spends much of her time raising awareness about Autism Spectrum Disorder with one of her 3 daughters being diagnosed with the disorder. Sherry and her husband Jeremy live in the Harrisburg area with their daughters.
Dr. Nancy Patrick is a Professor of Special Education and the Director of the Graduate Program in Education at Messiah College in Mechanicsburg, Pennsylvania, where she has responsibility for creating the graduate education programs and has taught classes in Autism Spectrum Disorders and Assessment, and Instructional Strategies for Learners with Autism Spectrum Disorder. Dr Patrick has held prior positions in special education, including Autism Consultant and School Psychologist at Central Dauphin School District.
For questions about accessibility or to request accommodations based on a disability, please contact Amy Bischof at abischof@HersheyStory.org or 717-520-5591. Seven business days advance notice of need for accommodations is requested.
This program is underwritten by Penn State Health Milton S. Hershey Medical Center and College of Medicine, The Hershey Company and Hershey Entertainment and Resorts Company.
If you wish to support the mission of the All Things Diversity sessions, donations may be made online (please specify that it is for All Things Diversity), or write a check to The Hershey Story, with All Things Diversity in the memo line, 63 W. Chocolate Avenue, Hershey, 17033.
Click here to see articles on the 2017-2018 Hershey All Things Diversity Series