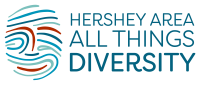 ACCEPT, RESPECT, and APPRECIATE our differences.
The Township of Derry is committed to advancing equity and inclusion for all residents and visitors. The Township supports fairness and anti-discrimination, and values the differences and diversity within our community. The Township fosters a social climate which makes all residents and visitors feel welcomed.
Commitment to Equity and Inclusion – Resolution 1510, Adopted April 25, 2017
Hershey All Things Diversity Events
The Township of Derry is pleased to invite the community to the Hershey Area All Things Diversity Sessions for 2017-2018. The educational sessions are organized by the Township, Penn State Health Milton S. Hershey Medical Center, The Hershey Company and Hershey Entertainment & Resorts.
All of the sessions will be held on the main level of The Hershey Story located at 63 West Chocolate Avenue, Hershey.  A light supper and dessert will be provided to attendees. The sessions are free but seating is limited and advance registration is required.
2018-2019 Series
Empowering Women and Girls
September 12, 2018, 5:30-7:15 p.m., Hershey Story Museum
Presenter Sharice Johnson, the Senior Division, Student Programs Leader at Milton Hershey School, and creator of Girls Grace Event, will talk about how the program helps girls build character and confidence to pursue their dreams.
"Girls Grace is an investment in [our female students'] development toward becoming strong, successful young women. By attending the event, they discover more about themselves, learn how to empower and support their peers and find time for self-reflection, and have some girl fun," explains Johnson.
She is also the creator and facilitator of the Young Women's Alliance Club that meets weekly with Milton Hershey high school girls.
Participants in the program will share their experiences and the positive effects of being a part of Girls Grace.
Schedule of Events:
5:30 p.m. – 6:00 p.m. Light Dinner
6:00 p.m. – 7:15 p.m. Presentation
7:15 p.m. – 7:25 p.m. Dessert
Please contact Amy Bischof at abischof@HersheyStory.org, or 717-520-5591 for questions about accessibility, or to request accommodations based on a disability. Seven business days advance notice of need for accommodations is requested.
If you wish to support the mission of the All Things Diversity sessions, donations may be made online (please specify that it is for All Things Diversity), or write a check to The Hershey Story, with All Things Diversity in the memo line, 63 W. Chocolate Avenue, Hershey, 17033.
2017-2018 Series
Creating a Safe and Inclusive Community By Preventing Bullying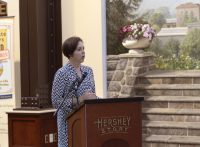 September 18, 2017, 5:30-7:15 p.m., Hershey Story Museum
Presenter: Erica Weiler-Timmins, Director of Psychological Services at Milton Hershey School
"It is important to establish a culture of inclusion and respect for individual differences"
The first in a series of Hershey All Things Diversity Sessions was presented by Erica Weiler-Timmins, Ph.D., ABPP, Director of Psychological Services and Training at Milton Hershey School on Monday, September 18, at the Hershey Story Museum.
Bullying and inclusiveness cannot coexist. Bullying is unacceptable in an inclusive environment and a community is not inclusive when bullying is permitted to take place. Everyone must do their part to prevent and stop bullying to achieve a safe and inclusive community. Dr. Weiler-Timmins discussed the prevalence of observed or perceived unwanted aggressive behavior in schools in the United States. "One in five U.S. students will be bullied in school with a higher percentage occurring in middle school. Bullying occurs across all ages, socioeconomic classes, races, and cultures", said Weiler-Timmins. Read More
Navigating the Generations: Creating an Inclusive Community for All Ages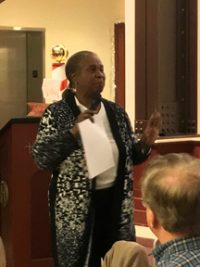 November 20, 2017, 5:30-7:15 p.m., Hershey Story Museum
Presenter: Lynette Chappell-Williams, Chief Diversity Officer and Associate Dean for Diversity and Inclusion at Penn State Health and Penn State College of Medicine
The U.S. now has six living generations, and each has its own attributes, based on their collective experiences. Recognizing the needs and interests of each age group helps our community develop strategies to create a more inclusive environment for all, regardless of age. "This is the first time in history that there is four generations in the workplace," said Chappell-Williams. She provided the breakdown of the generations living in Hershey and pointed out that 37.7% of the Hershey population is under the age of 30. She presented the characteristics of each of the age groups represented. Read More
Creating an Inclusive Environment for Lesbian, Gay, Bisexual and Transgender Community Members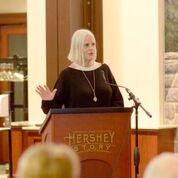 January 15, 2018, 5:30-7:15 p.m., Hershey Story Museum
Presenter: Joan Rater, producer
There's no doubt that Joan Rater is a creative and talented writer as evidenced from the ratings for Grey's Anatomy, a television drama that she co-wrote for 10 seasons. Her witty personality, craftiness with words, and love for her child, created a tale for Joan to share on LGBT (Lesbian, Gay, Bisexual, and Transgender) acceptance.
Joan was the presenter at the Hershey All Things Diversity Session held at the Hershey Story Museum on January 15, 2018. Her presentation titled Honoring the Inherent Dignity of a Human Person: A Mother's Story, began with Joan describing a distraught phone call to her friend after learning through a loving email from her daughter Maggie, that she was questioning her gender identity. Joan said that she was scared and thoughts ran through her mind. "What will her life be like, what about surgery, will it still be the same person I know?" Read More
Understanding Religious Differences to Create a More Respectful and Inclusive Community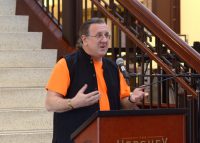 March 19, 2018, 5:30 – 7:15 p.m., Hershey Story Museum
Presenter: Dr. Jeffery Long, Professor of Religion and Asian Studies, Elizabethtown College
Know Thy Neighbor: Cultivating a Community of Respect
Differences can divide a community without a willingness to understand, accept, and welcome one another.
Dr. Jeffery Long, Professor of Religion and Asian Studies at Elizabethtown College was the presenter at the March Hershey All Things Diversity session held at the Hershey Story. Dr. Long encourages us to "know thy neighbor."
He explains that intolerance is a form of violence. "Differences are not a reason to treat others badly." He quoted Thomas Jefferson and emphasizes that someone believing differently from one's self does not hurt anything. "Why do we care if others believe differently," he asked.  Read More
Opening the Dialogue: Sharing Perspectives of Diverse Populations
May 21, 2018, 5:30-7:15 p.m., Hershey Story Museum
Hershey All Things Diversity Event Shares Perspective of Citizens from Diverse Backgrounds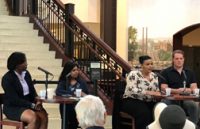 The final Hershey All Things Diversity series for this season featured the personal experiences of people who live and work in Derry Township and come from a variety of diverse backgrounds.
The panel shared their personal experiences related to homosexuality, racism, and immigration to the United States. Derry Township Supervisor Susan Cort served as moderator for the discussion held at The Hershey Story Museum on May 21, 2018.
The members of the panel openly discussed events in their lives when they felt they were treated badly because of their race, nationality, and sexual orientation, and when they received care and support from champions in their lives.
This panel discussion will provide an opportunity for Hershey community members, of different backgrounds, to share their experiences living or working in Hershey and what we can do, as a community, to be more inclusive than we already are.